Academic Writing
An earlier project about Russian émigrés who fled from the Bolshevik Revolution and settled in interwar Yugoslavia was published in Serbian Studies in 2009 as an article titled "Political, Social, and Personal: The Encounters of the Russian Emigration in Yugoslavia, 1921-1941." It was translated into Russian in 2010 and published by Новый Журнал (Novyi Zhurnal = The New Review) as "Политическое, социальное и личное:Встречи русской эмиграции в Белграде, 1921–1941 гг." This project was awarded the Yaro Skalnik Prize for the Best Graduate Essay by the Russian, East European, and Eurasian Center.
My book reviews have appeared in East Central Europe, The Slavonic and East European Review, Nationalities Papers, and Serbian Studies. 
Popular Writing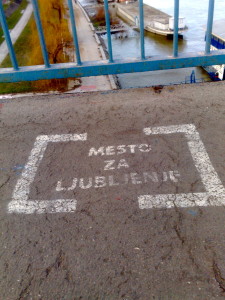 While I was a Fulbright fellow in Serbia, many of the major state-funded museums were closed or under renovation. I spent the bulk of my time visiting private and pop-up galleries, many of them much more provocative than usual museum exhibits. I co-wrote a blog post on Everyday Historian about these "alternative museums" and how they offer new spaces for coming to terms with the past in the the former Yugoslavia.
Entertainment districts are commercial neighborhoods located in dynamic real estate areas, well-linked to urban transportation, clustered with venues such as theaters, cafés, and brothels, engrained in the social imagination, and sanctioned by the urban administration. Memphis's Beale Street is considered to be a premier entertainment district in the South but, as I found during a visit in 2012, it was closer to being a no-fun zone. I co-authored a blog post on Everyday Historian about the discrepancy between Beale Street's imaginary and real experience, suggesting how it might be better re-conceptualized to supporting music in and outside its streets.
Between 2000 and 2002, I contributed to the arts section of the The Sophian. I also wrote a weekly music column for the Post-Bulletin from 1998 to 2000, and remained an occasional contributor until 2005.
Radio
I was the music director of WOZQ from 2003 to 2004, where I also DJed from 2001 to 2004. During 2004-2005, I worked overnights and weekends at KROC.