My book about Sleater-Kinney's third studio album Dig Me Out (Kill Rock Stars, 1997) was published by Bloomsbury Academic Press in 2016. It is part of the 33 1/3 Series devoted to "sound studies" of individual records. It can be purchased from the publisher, from Amazon, and from the band's website.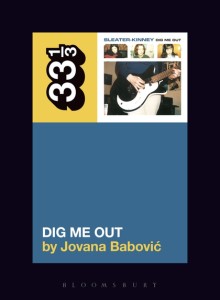 Sleater-Kinney's 1997 album Dig Me Out is built on Corin Tucker and Carrie Brownstein's competing guitars, Janet Weiss's muscular rhythms, and layered vocals that teeter between an urgent, banshee-like vibrato and a lower accompaniment. Dig Me Out was the band's third studio album, but the first one written and recoded with Weiss. It inaugurated Sleater-Kinney not only into a lineup that would span its two-decade career but also the trajectory of the band's story.
The book follows the narrative of Dig Me Out from its inception in Olympia, its recording in Seattle, and its reception across the United States. It's anchored in a short period of time – roughly from mid-1996 to mid-1998 – but it encompasses a series of battles over meaning that continued to preoccupy Sleater-Kinney in the coming decades. The band wrestled with the media about how they would be presented to the public, it contended with technicians about how their sound would be heard in clubs, and they struggled with pervasive social hierarchies about how their work would be understood in popular culture. The only instance when the band didn't have to put up much of a fight was when it came to their fans. The acclaim Sleater-Kinney received from their listeners in the late 1990s, and one they continue to receive today, speaks to a need for cultural actors who challenged normative notions of culture and gender. This story of Dig Me Out chronicles how Sleater-Kinney won the fight to define themselves on their own terms – as women and as musicians – and, in the process, how they redefined the parameters rock.
A short excerpt from the book is available here and here.
Interviews and blog posts about the book
I spoke about the book with Tim Minneci and J Dziak of the Dig Me Out Podcast; you can listen to our discussion here. You can also learn more about the project here and read a short interview with me here.
Just as the book was released, I wrote a series of posts for the 33 1/3 Blog. In addition to sharing my process of researching and writing, I created a supplemental reading guide, a Spotify playlist of my favorite songs by Sleater-Kinney as well as the members' other projects, and a behind-the-scenes peek at the making of the band's first video, "Get Up," from 1999's The Hot Rock.
Praise for the book
"The album's text is not only thorough, but also highly contextualized within the historical moment of its creation … [Babović] does an impeccable job of relating just how important the band was to the cultural milieu of the 1990s, and the overall impact Sleater-Kinney had (and still continues to have) on today's American female youth." — Jahleh Ghanbari, B-Side Journal
"When Babović writes about the feet of snow the band had to force their way through to get to John Goodmanson's Seattle studio (and subsequently inside its cramped, freezing walls) or their battles with condescending know-it-all sound technicians, it's as if you're right there with them. Though it's strongly grounded with analytic arguments and sociological theories, it's also hugely passionate; written with a similar excitement and frustration as the record itself." — Rhian Daly, Record Collector Magazine
"I loved Dig Me Out. It's about feminism and gender as much as it is about the three musicians and this one particular album. For SK fans, it's a must, but I also recommend it highly to people interested in media and sexism." — Jenna Freedman, Lower East Side Librarian
"Sleater-Kinney's Dig Me Out by Jovana Babović not only dives into the album for the latest of the 33 1/3 releases, but it also dives into the culture surrounding women in music … I can't recommend checking out this book enough." — Deanna, Hi-Fi Noise Blog
"It's an interesting look at an interesting time, and I think that in the future this book will seem more valuable." — Burgoo, Fed on Peaches
"Jovana Babović is an historian with a clear love for Sleater-Kinney …she places riot grrrl within the history of rock and roll music, shows how the women who created the music in that genre were battling against long-held prejudices against women in rock, and then explains how Sleater-Kinney grew out of that milieu." — Steven Rubio's Online Life
"I love that the album Babović has chosen for the 33 1/3 series is Dig Me Out … It's a portrait of a band on the cusp of their big artistic and commercial break … My favourite part of the book remained the details of the interactions of fans and band; the late 1990s and early 2000s feel like the last hurrah of fanzine culture and it's fantastic to see it detailed here." — Pop Culture Vulture