My primary teaching fields are modern European, East European, Russian, and urban history. I have also taught undergraduate surveys of World History and Western Civilization. I am currently an instructor with Breakaway Prep, an education company that helps students prepare for college.
While I worked as an Assistant Professor of History at Louisiana Tech University, I guided graduate student independent studies, examined comprehensive field exams, and advised thesis research and writing.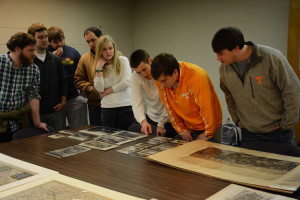 When I was a lecturer in the Department of History at the University of Tennessee – Knoxville, students in my "Central European Cities" research seminar worked with rare maps from the region that had been recently acquired by the McClung Museum. They were featured here and here. Students in this course used a wide variety of  sources and methods to complete individual research projects. They have used their work as a springboard to graduate school, Fulbright fellowships, and gainful employment.
As I was completing my graduate work at the University of Illinois at Urbana-Champaign, I was awarded the William C. Widenor Teaching Fellowship to design "The Metropolis in History," a capstone course for history majors. Students in this course researched and wrote original projects that have gone on to win awards and get published.
Please contact me to learn more about my pedagogical approaches and teaching innovation.